We're taking the show to the beach this winter! This is our second time making a trek to this very special (and warm!) place to mount a cool weekend BEACH version of our festival – featuring celebrity chefs flown in from Canada, US, and the Bahamas! Join us for films, food, fun and drinks at the world's friendliest resort, and one that we swear you will never want to leave once there, The Green Turtle Club on Green Turtle Cay, Abaco, The Bahamas.
A special thanks to our wonderful event sponsors:
Featured Chefs: Angel Betancourt (The Ocean Club – A Four Seasons Resort, Nassau, Bahamas), Michael Blackie (NeXT, Ottawa, Canada), Clayton Carnes (Cholo Soy Cocina, West Palm Beach, Florida), Tim Tibbitts (Flying Fish Gastropub, Freeport, Bahamas) and the club's own Executive Chef Michael Howell.
Space is limited so call or email the Green Turtle Club to secure your Devour! The Beach spot now. Club staff is happy to facilitate travel to this special destination.
All Access Pass: info@greenturtleclub.com, 1-866-528-0539
All Access Ticket & Room Package
4 Nights $1,000
5 Nights $1,135
6 or 7 Nights $1,265
Includes All-Access Pass to Devour the Beach – inclusive of VIP access to every Devour! The Beach event, VAT and all gratuities.
Includes Waterfront or Club Room accommodation based on double occupancy, inclusive of all service charges and taxes.
Devour! The Beach Event Schedule: 
WEDNESDAY, JANUARY 23, 2019
THURSDAY, JANUARY 24, 2019
Guest Arrivals
6:00 pm Welcome Reception, Meet the Chefs
FRIDAY, JANUARY 25, 2019
12:00 pm 

Culinary Demonstrations: How to Cook Fish Perfectly – Learn how to make the perfect grilled fish and two other fish preparations from our guest chefs. Three small tastes of perfectly prepared fish.

5:00 pm – 6:00 pm 

Welcome reception sponsored by Jim Beam Brands with celebrity mixologist

6:00 pm – 6:20 pm 

Junkanoo parade for authentic taste of Bahamian Culture

6:20 pm – 9:00 pm 

Rolls into Bourbon & Barbeque Party. Visiting chefs man BBQ stations – lobster, fish, burgers & brisket. Local fisherman with fresh conch salad station. Drinking films and bbq films as digital decor during party and a screening of Barbeque in the Club's Dining Room.
SATURDAY, JANUARY 26, 2019
10:30 am – 1:00 pm 

Expedition into New Plymouth (Includes Goombay Smash from the famous Miss Emily's Blue Bee Bar) and a walking tour of historical sites

1:00 pm – 3:00 pm 

Abaco Chowder Competition in New Plymouth Invite town and regional restaurants to participate in a friendly competition Charity Fundraiser for Every Child Counts. Donations accepted.

6:30 pm – 9:30 pm 

Devour! The Beach Gala Chefs and Shorts Dinner – Five Chefs, Five short films, Five delicious courses inspired by the movies.

9:30 pm – 12:00 am 

Live Music & fun at the Club
SUNDAY, JANUARY 27, 2019
8:30 am – 10:30 am 

Bloody Mary Brunch

11:00 am – 4:00 pm 

Party Boat island hopping to feed Swimming Pigs on No Name Cay and Munjack Cay to feed wild stingrays and sharks. Fresh caught fish tacos served on the beach for this adventurous lunch.

8:00 pm – 10:00 pm 

Outdoor movie screening of the film CHEF on the patio or Indoor screening with music outside. Cuban sandwiches, Fish Po-Boys, brisket sandwiches and popcorn for dinner to eat while watching film
MONDAY, JANUARY 28, 2019
9:00 am – 11:00 am 

Celebrity Chef Departures.
Optional add-on of extra days for fishing or diving trips.
More info on our featured chefs:
Angel Betancourt (The Ocean Club – A Four Seasons Resort, Nassau, Bahamas)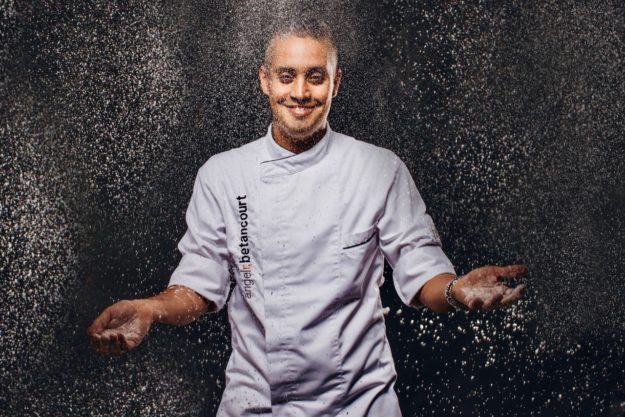 Michael Blackie (NeXT, Ottawa, Canada)
Clayton Carnes (Cholo Soy Cocina, West Palm Beach, Florida)
Tim Tibbitts (Flying Fish Gastropub, Freeport, Bahamas)
Michael Howell (Green Turtle Club Resort & Marina's own Executive Chef)
Sommelier Rebecca Tibbitts (Flying Fish Gastropub, Freeport, Bahamas)