Devour! The Food Film Fest is the largest food film festival in the world. The annual week-long festival is a transformative food and film experience combining cinematic excellence with 100+ events, celebrated filmmakers, and high-profile chefs from around the globe. The festival welcomes 15,000 food and film lovers. It has become a destination for celebrities and notable chefs including Anthony Bourdain, Phil Rosenthal, Jacques Pépin, Gabrielle Kreuther, Dominique Crenn, Chuck Hughes, Sam Cass, Michael Städtlander, Normand Laprise, Michael Smith, Gordon Pinsent, Jason Priestley, Lidia Bastianich, and Bill Pullman. Each year, top chefs from across Canada and around the world collaborate on special dinners inspired by films.
The 13th Annual Devour! The Food Film Fest is back and in person from October 23-29 in Wolfville, the agricultural and wine heartland of Nova Scotia and the Grand-Pré National Historic Site. From Michelin star chefs to the culinary stars of tomorrow, this year's festival will dig into Acadian, Québecois, Cajun, Creole, and French cuisine, and explore how they intersect on the screen and on the plate. The line-up includes Michelin-starred Alsatian Chef Gabrielle Kreuther from New York, legends of New Orleans' Cajun cuisine Chef Megan "Meg" Bickford of The Commander's Palace and Chef Stephen Stryjewski of Cochon, the rising stars of Acadian cuisine Chef Gene Cormier of Euston Park Social from Moncton and Chef Shane Robicheau from Nova Scotia, and an array of talented chefs from across North America.
The festival's finely curated program highlights current food trends and issues, farming, sustainability, and the impact of current food systems on our lives.
Devour! challenges people to think differently and create a deeper connection to food. The festival's finely curated program highlights current food trends and issues, farming, sustainability, and the impact of current food systems on our lives. Festival-goers delve deep into the world of food through original one-of-a-kind experiences. These include 50+ films at our host cinema The Al Whittle Theatre, the Chefs and Shorts Gala, Celebrity Chef Dinners, as well as culinary workshops, farm and foraging tours, Bourbon Brunches, the Chowder Smackdown, Le Tour de l'Acadie bike ride, the Great Devour! Cajun Chicken Community Supper in support of regional food banks, Le Marché de Blomidon, an outdoor market and street food rally, and so much more. 
Devour! The Food Film Fest is managed by festival organizers Michael Howell and Lia Rinaldo. Devour! is overseen by an executive board and advisory council of key film, business, and culinary partners. Public sector partners—such as Telefilm Canada, Atlantic Canada Opportunities Agency, and Nova Scotia Department of Communities, Culture, Tourism & Heritage—have joined the festival's founding partner, Slow Food Nova Scotia, in support of the event. Over the past five years, the number of festival partners has tripled, including CBC as the official media partner.
Devour! takes place in Wolfville, in Nova Scotia's Kings County, one hour from Halifax. Known as the agricultural heartland of the province, the area is home to a thriving wine industry and a warm, hospitable community with a longstanding farm-to-table ethos and home to the Grand Pré National Historic Site. A rich cultural landscape infuses the region and its people with respect for the surrounding riches. No place could be more fitting to explore our relationship with food.
Devour! has grown steadily since its inception. Box office numbers continue to climb on a yearly basis (from 1,000 attendees in 2009 to 14,463 in 2019). Devour! has also garnered worldwide media attention with articles in The Hollywood Reporter, enRoute Magazine, Screen International, USA Today, Saveur Magazine, The Daily Meal, and Reader's Digest. Devour! has been recognized as a national culinary, hospitality, and tourism trailblazer and named a Canadian Treasure by the Centre for Hospitality and Culinary Arts (CHCA) at George Brown College. Previous awards include the prestigious Gary MacDonald Culinary Ambassador of the Year Award at the Taste of Nova Scotia Prestige Awards.
To keep up on the latest buzz, follow us on Twitter, Facebook & Instagram or sign up for our e-newsletter. #Devour2023 #DevourFest #devourtheworld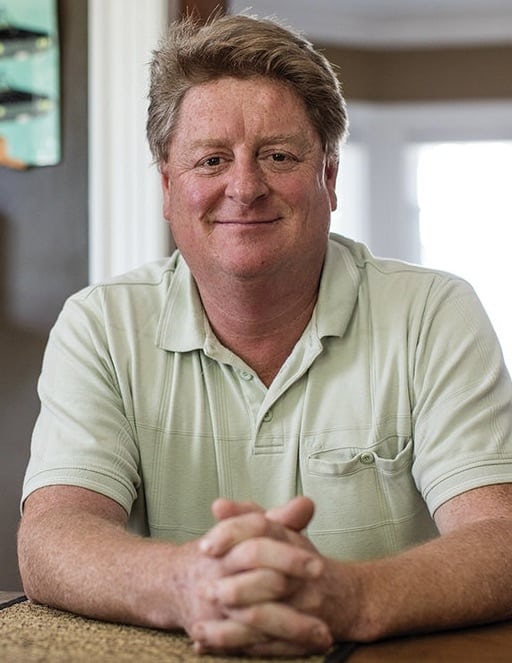 Michael Howell, Executive Director
Michael is the founder and Executive Director of Devour! and the consulting Chef at The Green Turtle Club in Abaco, Bahamas. For more than 25 years Michael has been a leading chef across the United States, Canada and The Bahamas. From 2003-2013, Michael owned and operated Tempest, an award-winning restaurant in Wolfville, NS. Michael has twice cooked at New York's prestigious James Beard House. His cookbook, Atlantic Seafood, was runner up at the 2010 Taste Canada awards that was recently re-released in an updated second edition.
Michael is the former Co-Chair of Slow Food Canada and was honoured with the Queen Elizabeth II Diamond Jubilee Medal in 2011 for his contributions to improving the food system for all. He was Nova Scotia Local Food Hero in 2010 and named Taste of Nova Scotia's Culinary Ambassador in 2015. Devour! was awarded the 2017 Canadian Treasures award for Innovation in Hospitality by The George Brown Centre for Culinary Arts and in 2018 was awarded the Tourism Industry Association of Nova Scotia Culinary Ambassador Award.
Lia Rinaldo, Managing Director
With a 30-year career in the film industry and a passion for food culture, Lia Rinaldo knew she'd found a perfect combination in Devour! The Food Film Fest. Starting in the movie business as a bright-eyed teenager, she honed her skills at Wormwoods Dog & Monkey Cinema, and later brought her considerable knowhow to the Atlantic Film Festival for more than 20 years. Her interest in the culinary industry and enviable communication skills led her to a second career as a freelance food and travel writer. A member of the Travel Media Association of Canada and the International Food, Wine & Travel Writers Association, Lia also provides culinary marketing, social media, PR and fundraising consulting services throughout Nova Scotia.
Lia has been recognized for her exceptional contributions to the promotion of culture and the culinary arts. She has been honoured with the Tourism Industry Association of Nova Scotia Crystal Tourism Award of Excellence Ambassador Award, the Taste of Nova Scotia Gary MacDonald Culinary Ambassador Award, Canadian Treasures Award for Innovation in Hospitality by The George Brown Centre for Culinary Arts, the Progress Women of Excellence Award in Arts & Culture and has twice been named to the Chronicle Herald Arts & Life Honour Roll. Lia currently serves on the national jury for Canada's 100 Best Restaurants.
Devour! Board of Directors
Gerald Walsh, Chair
Maura Ryan, Vice Chair
Blair Cook, Treasurer
Nan MacDonald, Secretary
Ali Hassan
Megan Hodges
Kevin Landry
Glenn Munro
Jeanne Saulnier
Martin Suter
Kristi Wenaus