A Celebration of Canadian Cinema & Cuisine: Celebrity Chef Spotlight Gala Dinner with Chefs Michael Smith, Paul Rogalski, Craig Flinn, Joshna Maharaj, Ali Hassan, Emma Cardarelli, Tony Rinaldo & David Smart
Sponsored by Scotiabank and Bishop's Cellar.
This six-course dinner is inspired by the world premiere of the Canadian film Grand Cru and will be prepared by chefs:
Michael Smith, The Inn at Bay Fortune, Prince Edward Island
Paul Rogalski, Rouge Restaurant, Calgary
Craig Flinn, Chives Canadian Bistro, Halifax
Joshna Maharaj, Toronto
Ali Hassan, CBC, Toronto
Emma Cardarelli, Nora Gray, Montréal
Tony Rinaldo, Rinaldo's Italian American Specialties
David Smart, Bessie North House, Canning
Your $160.00 ticket includes wine pairings, tax and a ticket to the Devour! Spotlight Gala Party. Menus & wine pairings coming soon!
Michael Smith
Michael Smith, one of Canada's best-known chefs, is a passionate advocate for simple, sustainable home cooking and an inspiration for families creating their own healthy food lifestyle. He's the host of Chef Michael's Kitchen, Chef at Home and Chef Abroad seen on Food Network Canada and in more than 100 other countries. He's a judge on Chopped Canada and travelled the world for his innovative web series Lentil Hunter.
Chef Michael and his wife Chastity are the proprietors of The Inn at Bay Fortune on Prince Edward Island. They've re-launched the property where Michael gained international fame in the 1990s with a new spirit of five-star hospitality and an innovative dining experience, the FireWorks.
His 10th award-winning cookbook, Real Food, Real Good, launched in September 2016 and immediately landed on the Globe and Mail bestseller list. His food media production company and test kitchen, Culinart Limited, is breaking new ground and his social media platforms are Canada's top choice for foodie fun. @ChefMichaelSmth
Paul Rogalski
Paul Rogalski is renowned for his passion for exceptional cuisine created from homegrown and sustainable food. He is co-creator and owner of Calgary's acclaimed Rouge Restaurant, as well as Bistro Rouge, a casual concept in Calgary's Signal Hill district. The accolades for Rouge include Best Overall, Where Magazine, 2017.
Chef Paul is the recipient of the University of Guelph Food Day Canada Good Food Innovation Award (2016) and was recognized by his alma mater, the Southern Alberta Institute of Technology, as a Distinguished Alumni (2014).
In 2011 Paul was awarded Foodservice and Hospitality magazine's Independent Restaurateur of the Year, named by Alberta Venture Magazine as one of Alberta's Most Influential People and recognized by Business in Calgary Magazine as one of the Twenty Business Leaders of Tomorrow.
During the 2010 Winter Olympics, Paul was part of the management team that oversaw food production at Athletes Village in Whistler. Paul received special recognition for "Leadership and Support of Organic and Sustainable Cuisine" from California's Monterey Bay Aquarium in 2009. @RougeCal
Craig Flinn
Chef Craig Flinn is the chef/proprietor of Chives Canadian Bistro, 2 Doors Down, and 2DD Bar & Bites in Halifax. His apprenticeship began when he worked with Chef Michael Smith at The Inn at Bay Fortune on Prince Edward Island. He then worked in Europe, Canada, and the U.S., most notably at the famous Savoy Hotel in London, England.
Craig opened Chives in 2001. Since then the restaurant has been a solid supporter of local food producers and has won numerous accolades, including being named among the Best New Restaurants in Canada in enRoute magazine and earning Best Cuisine in Nova Scotia from Taste of Nova Scotia. In 2013 Craig opened 2 Doors Down Food & Wine, a restaurant that quickly became one of the most popular restaurants in Halifax. He launched 2 Doors Down Bar & Bites two years later.
Craig launched his first cookbook, Fresh and Local, in 2008. Two more books in his "Fresh" series soon followed. A fourth book, Out of New Nova Scotia Kitchens, made the 2016 shortlist for best Cultural & Regional Canadian Cookbook at the Taste Canada National Cookbook Awards. @chefcraigflinn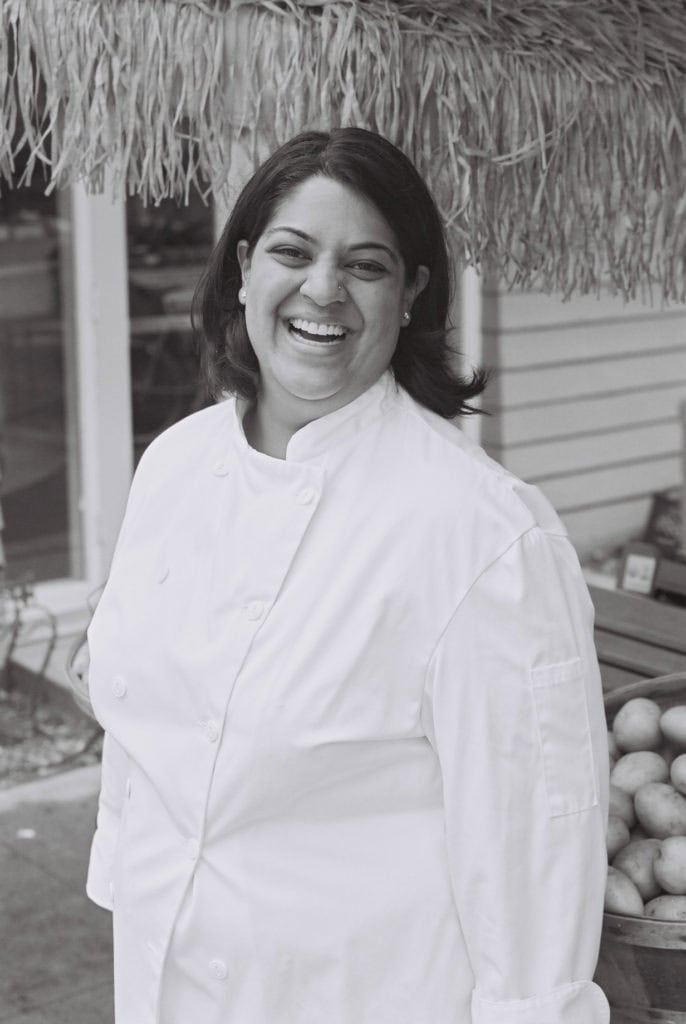 Joshna Maharaj
Joshna Maharaj is a busy chef, activist and speaker with big ideas about good food! Joshna's strong social justice and sustainability ethics are rooted in her time at The Stop, a community food centre where she built innovative and delicious community food programs.
Recently, Joshna has been working with institutions in Toronto building new models for institutional food procurement, production and service, proving that the institution is a viable tool for social change. Joshna has been an expert panellist on TVO's The Agenda with Steve Paikin and makes regular appearances on CBC Radio. Joshna is a two-time TEDx speaker and recently made the shortlist of nominees for the inaugural Basque Culinary World Prize, which recognizes chefs who use gastronomy for social change. @joshnamaharaj
Ali Hassan
Ali Hassan is a Canadian standup comedian, writer, actor and radio and television personality. CBC fans will recognize him as the past lead panellist on George Stroumboulopoulos Tonight, the recent host of the annual battle of the books, Canada Reads, and the weekly host of Laugh Out Loud.
He has starred in films like French Immersion, Breakaway and Goon. You can find him on television right now as a recurring character on FXX's Man Seeking Woman, PBS Kids' Odd Squad, the CTV/eOne series Cardinal and upcoming on the VICE series FUBAR.
As a standup comedian, he is a Canadian Comedy Awards nominee who has performed at the Just for Laughs Festival, JFL42, the Winnipeg Comedy Festival and the Amman Stand-Up Comedy Festival – the first festival of its kind to be held in the Middle East. Ali is touring his solo show, Muslim Interrupted, across Canada in 2017. @StandUpAli
Emma Cardarelli
After completing double major in English and Psychology from the University of King's College, Emma Cardarelli decided she would like to try something different.  She headed out west to try her hand at cooking in a professional kitchen at Lake O'Hara Lodge in Yoho National Park.  This is where Emma determined that the life of a professional chef was for her.  She returned to Montreal to attend cooking school at L'Institute de tourisme et hotelerie du Quebec where her teacher, Jean-Paul Grappe introduced her to Frederic Morin and David MacMillan, now of Joe Beef.  After working with Fred and Dave for many years in a couple of different establishments, Globe and Liverpool House, Emma was ready to strike out on her own.  She opened Nora Gray in September 2011 with business partners Ryan Gray and Lisa Mc Connell. After six years, Nora Gray is still going strong and only getting busier.  At the moment, Emma is looking forward to opening second restaurant with Ryan Gray and Marley Sniatowsky in November 2017. @noragraymtl
Antonio Rinaldo
Born and raised in Halifax, Tony grew up experiencing everything in the kitchen first hand in his father's restaurant, Salvatore's New York Pizzeria. After graduating from the culinary management program at Georgian College in Barrie, Ont., Tony spent time cooking in Halifax (Rogi Orazio), Montréal (Nora Gray), Toronto (Parts & Labour), Jasper, New York, Las Vegas and Lyon (Le Potager des Halles) before returning home to open two businesses with his brother, Sam.
Inspired by a rich family history including a long line of culinary mavericks in Halifax, Buffalo, New York, Sicily and beyond, the brothers launched T Dogs, a gourmet hot dog cart on the streets of Halifax. Two short years later they opened their first official restaurant, Rinaldo's Italian American Specialties. The restaurant specializes in handmade sandwiches, pizzas and pastas just like the family used to make – everything from scratch using local ingredients.
A few months after opening, Rinaldo's was nominated in five categories for The Coast's Best of Halifax awards, nominated as New Business of the Year for the Halifax Chamber of Commerce's 2018 Halifax Business Awards and listed as one of 'New Restaurants Across Canada That are Worth Travelling For' in WestJet Magazine. @rinaldoshfx
David Smart
Dave Smart took a circuitous route to becoming a chef. He worked as an engineer and project manager while indulging his love of cooking by making dishes for his friends. Eventually his skill as an amateur chef prompted those friends to suggest he take his cooking to another level.
Dave attended Le Cordon Bleu cooking school in Ottawa, graduating at the top of his class. He cooked in various restaurants in Ottawa before landing in the kitchen The Tempest  in Wolfville. He eventually inked a deal to buy the restaurant and become its chef/owner, rebranding it Front and Central.
"I love the excellence, the precision, the technical aspects of cooking. I'm a traditionalist when it comes to cooking but I still have fun playing on the sidelines with avant-garde food styles and techniques."
Now with his wife Susan, Dave is opening a small farm-restaurant with a 12-seat dining room in their farmhouse at the base of the North Mountain in the beautiful Annapolis Valley, with the hope of sharing the best of what the region has to offer. @ChefDaveSmart