Devour Opening Gala Reception presented by Taste of Nova Scotia
The fifth edition of Devour! kicks off in grand style with the Devour! Opening Gala Reception presented by Taste of Nova Scotia. Twelve of Nova Scotia's finest chefs will come together to create a sensory exploration that celebrates our local cuisine. This signature event will feature the Order of Good Cheer celebration inducting all visiting chefs and celebrities – including special guest curator Bill Pullman.
Participating Nova Scotia Chefs & Restaurants will be creating film-themed dishes including:
Brad Wammes (Kitchen Door Catering) – For the Critics: Tideview Cider Braised Pork Belly with roasted parsnips & haskap berry gastrique
Chris Velden & Darrick Mailman (The Flying Apron Cookery) – Salmon Fishing on the Red Bank Road: Nova Scotia Wild Blueberry cured Sustainable Blue salmon, corn and green onion gâteau, dill crème fraiche
Dan Vorstermans (Field Guide) – The Sturgeon Queens: Smoked Sturgeon and Stracciatella Cheese with roasted peppers
Jonathan Joseph (The Argyler Lodge & Restaurant) – Strange Brew Braised Brisket Sliders with red cabbage slaw 
Martin Ruíz Salvador (Fleur de Sel & Salt Shaker Deli) – A Tapas of Two Cities: Assortment of Tapas and Pintxos
Matt Krizan (Mateus Bistro) – Stock Pot and Two Smoking Conchos: Matt's Smoked and Braised Pork Belly Pho with roasted hot Hungarian paprika oil
Michael Carroll (Paddy's Irish Brew Pub) – Canadian Bacon Jam Slider: Wild Mountain Farm Beef with Fox Hill cheese and house made bacon jam
Mike McKinnon, Peter Welton & Kira Williams (Acadia University) – Silence of the Lambs: Braised  Oulton's lamb shoulder croquette, Fox Hill cheddar potato, Annapolis Valley harvest vegetables and Riverview pea sprouts 
Nichole Hopkins & Tony Ross (The Lobster Shack) – A League of Their Own Lobster Fondue: Sautéed Lobster served on skewers sandwiched between garlic toast – with a pot of warm cream for dipping
Patrick MacIsaac (Glenora Inn Distillery) – Lord of the Bacon: Bacon Wrapped Scallops with 10 year old Glen Breton whisky maple butter
Renée Lavallée (The Canteen) – The Secret Garden: Roasted Delicata Squash, Watermelon Radish, Purple Kale, Labneh, Maple-Brown Butter & Pinenut Vinaigrette, House Cured Sausage Bits
Stephanie Ogilvie (Brooklyn Warehouse) – It's Complicated: Croque Madame with Oulton's braised beef tongue, smoked Gouda, house made brioche, Scotian Gold apple and quail egg 
Guests on this special night will also be treated to drinks from The Good Cheer Trail featuring: Avondale Sky Winery, Benjamin Bridge, Blomidon Estate Winery, Boxing Rock, Devonian Coast, Garrison Brewing, Ironworks Distillery, L'Acadie Vineyards, Luckett Vineyards, Meander River Farm and Brewery, Paddy's Irish Brew Pub, Petite Riviere Vineyards, Planters Ridge Winery Ltd. and Sainte-Famille Wines.
Featuring musical stylings by The Prohibition.
Patrick MacIsaac, Glenora Distillery
Known for his exemplary leadership and culinary capabilities, Patrick MacIsaac is a chef for the ages. Following his tour in the navy, he began focusing his time on his passion of cooking by touring the world to develop the skills and appreciation of food necessary in order to succeed in the culinary industry. Mastering his chosen skill, Patrick found himself heading establishments like Savannah of Montreal, the MicMac Beverage Room of Halifax, The Store House of Ireland, Coyotes of Banff, leaving each establishment better than when he arrived.
Drawn to that smoky spectre of single malt whisky, Patrick recently joined the team at Glenora Distillery, where once again he has lead yet another team to great success.
Dan Vorstermans, Field Guide
Dan Vorstermans is truly dedicated to his craft. As a chef with a hyper-local focus, he sources as many products locally as possible, both farmed and foraged for his famed North End of Halifax restaurant, Field Guide.
Dan, who was born and raised outside of Toronto, has found his home in Nova Scotia and takes his inspiration from his beautiful east coast surroundings. With an ambitious and pure approach to cooking – think the whole animal, raw fish dishes and beautiful, fresh vegetables – Dan and his talents are a force to be reckoned with in the local restaurant scene.
Brad Wammes, Kitchen Door Catering
A maritimer at heart, Brad Wammes hails from a small waterside community in Southern Ontario, where he grew up with a love of food and family. After attending George Brown College and working his way around the world in Michelin Star restaurants (from Scotland to Southern England, South East Asia to Australia), he found a home in Halifax with his wife and twin daughters.
For over five years, Brad headed the culinary team at the infamous Seven restaurant in downtown Halifax. In 2012, Brad joined Kitchen Door Catering to oversee all aspects of the culinary team that produces off-site catering and gourmet to-go food items sold in the Bedford shop. Sharing his passion of extraordinary culinary talents with Nova Scotia (and everywhere else the catering company travels to), Brad has helped the small silver-award winning catering company grow by focusing on local, fresh ingredients.
Michael Carroll, Paddy's Irish Pub & Rosie's Restaurant
With over 33 years in the culinary industry, Michael Carroll is known as a culinary guru. Receiving his Red Seal in 1991, he has been the Executive Chef for Paddy's Irish Pub & Rosie's Restaurant – an Annapolis Valley staple! – in both Kentville and Wolfville for the past 23 years.
A long standing member of Taste of Nova Scotia, Michael is currently waiting for the third location of his iconic restaurant to open in Windsor.
Jonathan Joseph, Ye Olde Argyler Lodge
Born and raised in Miami, Jonathan Joseph lives and breathes all things culinary. Working in kitchens since the young age of 14, Jonathan spent several years in various restaurant settings, working every position in the kitchen. Graduating manga cum laude from Florida International University's Hospitality program, he received degrees in hotel and restaurant management (all the while working in the food labs as a teaching assistant and student instructor, mentored by Chef Michael Moran).
Jonathan gained further industry experience by helping organize one of the world's largest foor and wine festivals – South Beach Food and Wine. His participation with the annual festival provided him the opportunity to work alongside some of the world's greatest chefs, such as Bobby Flay, Aaron Sanchez, Mary Sue Millikan, Susan Fenigar, and Jonathan Eismann.
With over 20 years of experience, Jonathan made Nova Scotia his home in 2007. Bringing his love and passion for food and hospitality with him, Jonathan opened Ye Olde Argyler Lodge in Lower Argyle, Nova Scotia (voted Best Restaurant in Yarmouth and Acadian Shores in 2013).
Martin Ruíz Salvador, Fleur de Sel
Born and raised in Nova Scotia, Martin Ruiz Salvador began his culinary career as a young dishwasher in Halifax before working his way across the country as a line cook. After graduating from Le Cordon Bleu at the Scottsdale Culinary Institute in Arizona, Martin travelled to Europe where he apprenticed and worked three different Michelin-starred restaurants under the likes to Chef Aiden Byrne, Chef Jean-Paul LaCombe and the renowned Chef Frédérick Côte.
Upon returning to Canada, Martin followed his dream to open his own fine dining restaurant in rural Nova Scotia. Fleur de Sel opened its doors in 2004. Run by Martin and his wife, Sylvie, the Lunenburg restaurant is a harmonious meld of Martin's classical French training with his own Nova Scotian roots and locale. In 2005, Fleur de Sel earned the eighth spot in EnRoute's Top Ten New Restaurants in Canada. Martin has since opened The Salt Shaker Deli and The South Shore Fish Shack, both located in Lunenburg. He has also cooked at the James Beard House in New York, competed in the National Gold Medal plates competition in 2008 and 2014, represented Nova Scotia at The Canadian Chefs Congress and has held Four Diamonds with CAA since 2007. This year, Fleur de Sel was named #22 by Canada's Best 100 Restaurants Magazine.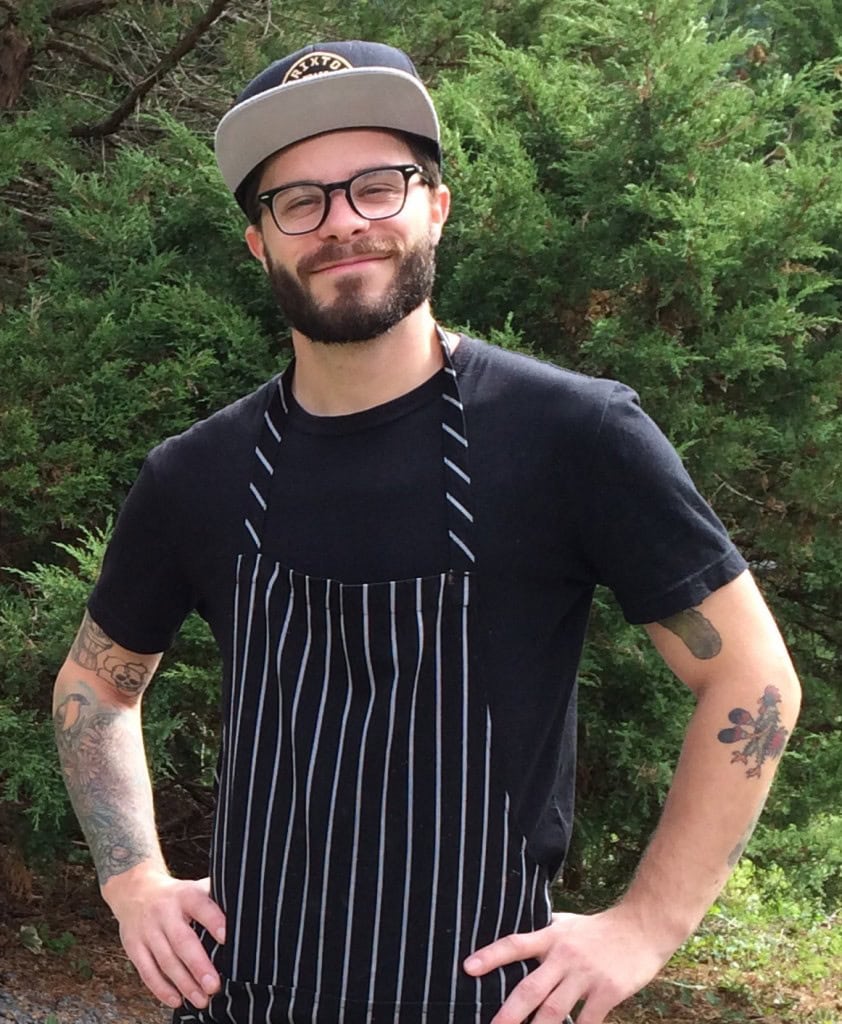 Darrick Mailman, The Flying Apron Cookery
Raised in a food focused family, Darrick Mailman grew up fishing, gardening, hunting and cooking. Cooking professionally from age 16, he went on to Graduate from the Culinary Institute of Canada. After working under some of Halifax's best known chefs, Darrick took on the position of Chef de Cuisine at Dennis Johnston's FID, before following his dream of travelling throughout Europe to experience cultural food and farming.
Upon returning home to Nova Scotia in 2013, Darrick opened Mother's Pizza in Halifax. With the next chapter of his local food dream having already begun, Darrick and his partner, Lindsay, moved to an organic farm in Center Burlington, Nova Scotia to work with Chef Chris Velden at The Flying Apron Inn & Cookery in August 2014. The two have excitedly embraced the rural community, and are looking forward to following their dream of farming with their latest project, Full Belly Farm.
Stephanie Ogilvie, Brooklyn Warehouse
Hailing from the maritimes, Stephanie began her journey in the kitchen at a very young age with her grandmother. Working in the industry since she was 16, she decided to further pursue her interest in the culinary world by attending the Culinary Institute of Canada at Holland College in Prince Edward Island. After graduation, she moved to Toronto and worked at the prestigious George Restaurant under Chef Lorenzo Loseto, apprenticed under Paul Boehmer at Ultra Supper Club and staged at Canoe Restaurant under Anthony Walsh. From there, her travels continued all the way to Australia, and eventually home to Nova Scotia where she became Sous Chef and eventually Executive Catering Chef at Jane's on the Common.
Steph found a new home at Brooklyn Warehouse in 2013 as Sous Chef. After accomplishing great success, she has taken the reigns as Head Chef under Chef Mark Gray.
Chris Velden, The Flying Apron Cookery
Hailing from Germany, Chris Velden has been cooking and teaching across Canada, the US, and Germany for more than 35 years. As a Certified European Master Chef and Culinary Instructor, his expert qualifications match his passion for teaching culinary education to future chefs and the larger public at his Flying Apron Cooking School.
As the Chef and Co-owner of the newly opened The Flying Apron Inn & Cookery in Summerville, Nova Scotia, Chris brings his love for local, honest food to each item on the menu. In the short time since opening, The Flying Apron has become known for using seasonal, wild, locally grown ingredients. Developing personal partnerships with many Nova Scotian farmers, Chris stands strongly for the use of sustainable and ethical farming practices. He is a member of the Nova Scotia Slow Food Board, and is a representative for OceanWise.
Nichole Hopkins & Tony Ross, The Lobster Shack
Each with their own unique flare and passion for fantastic food, Nichole Hopkins and Tony Ross run The Lobster Shack in Barrington Passage together. Known for their unique atmosphere and wide range of tasty choices, the dynamic duo use as many of Nova Scotia's bountiful fresh products as possible.
With a live lobster tank the the restaurant and an endless supply of fresh fish at the doorsteps, the menu is always based on keeping it first and foremost fresh and local.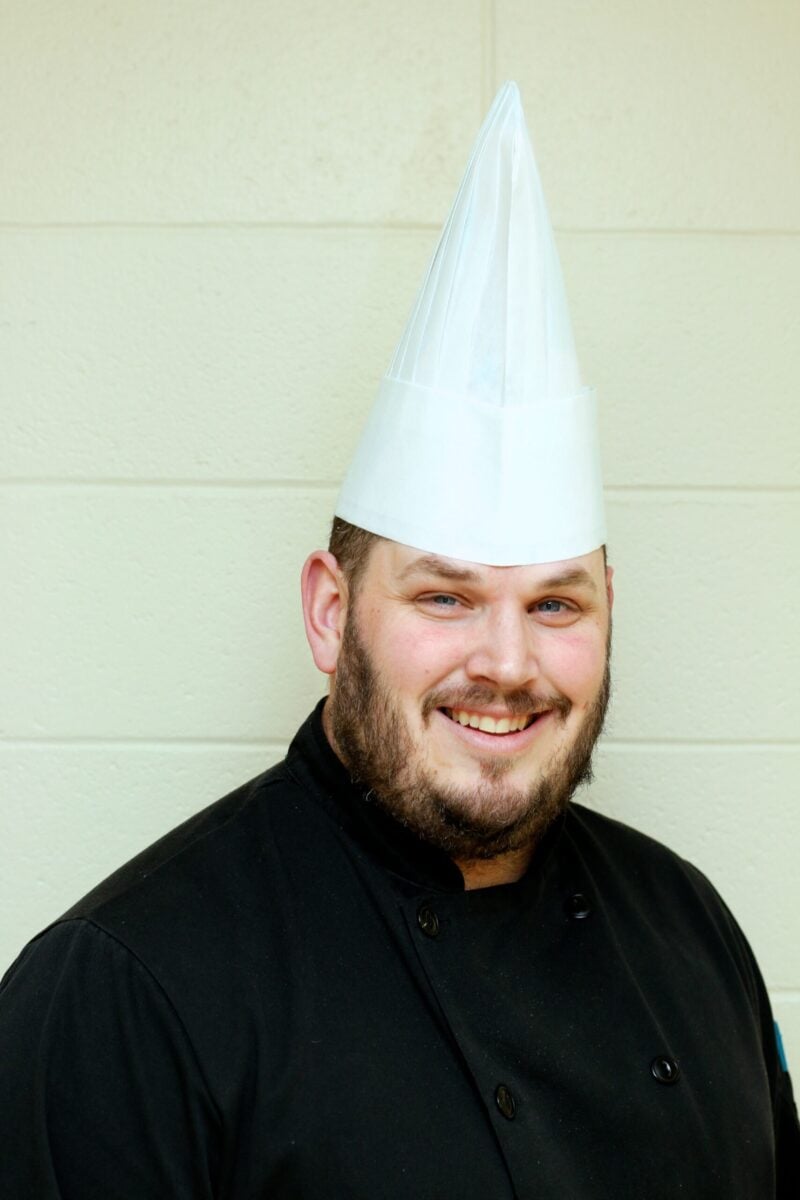 Peter Welton, Acadia University
Born and raised in the beautiful Annapolis Valley, Red Seal Chef Peter Welton is accustomed to using local products. Peter grew up in a house where home-grown produce and wild meats were on hand and the aroma of fresh baked bread was customary.
After high school, Peter trained at the Culinary Institute of Canada in Prince Edward Island, where in 1996; he was under the tutelage of Chef Hans Wicki at Chester's Haddon Hall. Peter has had the privilege to work under many prestigious chefs that taught him that hard work and passion will get you far.
Peter has spent the last 23 years cooking in various restaurants around Nova Scotia ranging from the bustling waterfront of our Province's capital, to the picturesque town of Wolfville. Peter was the Executive Chef with the Port Pub & Bistro from its creation in 2007 till 2012, emphasizes quality food in a relaxed atmosphere complementing the local beer and wine offered there.
Peter joined Chartwells in 2012 as the Sous Chef and now as Executive Chef, 2015, at Acadia. He is involved with all aspects of the daily food production whether it is at Wheelock, retail locations or catering. The culinary team at Acadia strive to produce the best quality food for our customers and source as many local products possible for their menus.
Matt Krizan, Mateus Bistro
For as far back as his memory can carry him, Matthew Krizan remembers cooking. In his mother Anna's  kitchen, on the large tile countertop, Matt would sit near the window overlooking the communal back yard in the complex they lived in Bratislava, Czechoslovakia. There he would observe the Slovakian and Hungarian dishes created by Anna and her mother. With the smells of onion, paprika and chicken filling the kitchen, it was here that Matthew first learned to love food.
Riding on his natural inclination to cook, Matthew graduated from Le Cordon Bleu Paris Cooking School in London, England. From there, he continued working in high quality kitchens in Nova Scotia and Ottawa until moving to Iqaluit. After living in Canada's North for nearly a decade, Matt decided it was time to open his own restaurant making the food he loves, and was naturally drawn back to the abundance of the Maritimes. Working with Nova Scotia's farmers and fishermen, Mahone Bay's Mateus Bistro delivers fresh and exciting dishes using local produce, heightened with a European style. Following the seasons, Matt works hard to create new menus to suit each and every harvest.
Renée Lavallée, The Canteen
Born and raised in Shawville, Quebec, Renée Lavallée left home at an early age in hopes of becoming a lawyer, but after "politely" being asked to leave the university she was attending, her parents gave her a choice: find a new school and buckle down or get a job. She promptly applied to George Brown College in Toronto and decided to give cooking a shot. After twenty crazy years in the business, including many stints in restaurants around the world, Renée has called Nova Scotia home for the past ten years.
Renée currently divides her time between her popular communal dinners and cooking classes and as the chef and owner of The Canteen – a bustling neighborhood shop in Downtown Dartmouth, specializing in chef-inspired sandwiches, soups, salads, fresh baked artisanal breads and meals to go. With years of experience under her belt, Renee has built a successful consulting business under The Feisty Chef brand, working for a variety of clients in both the public and private sectors. Renée's ability to not only cook, but to confidently communicate with consumers and media in both French and English has led to numerous contracts locally and abroad.
We're bringing the Nova Scotia Good Cheer Trail to DEVOUR!.
Explore Canada's first winery, craft brewery and distillery trail at the DEVOUR opening reception – where we'll have 14 of our 35 Good Cheer Trail experiences for you to try. Meet passionate Nova Scotia artisans from Yarmouth to Cape Breton. Although the trail weaves through stunning Nova Scotia landscapes, heritage sites, beaches, farmlands and cities, we'll have many of the wineries, breweries and distilleries under one roof in Wolfville on November 4, 2015.