Scotland vs New Scotland: Celebrity Chef Dinner with Chefs Mark Greenaway, Peter McKenna, John Higgins, Martin Ruíz Salvador, Johnathan Canning, Shane Robilliard & Chris Velden
Sponsored by Fox Harb'r Resort, Scottish Development International and Bishop's Cellar.
This five-course dinner is inspired by the film Jacques Pépin – The Art of Craft and will be prepared by:
Mark Greenaway, Restaurant Mark Greenaway, Edinburgh
Peter McKenna, The Gannet, Glasgow
John Higgins, George Brown College, Toronto
Martin Ruíz Salvador, Fleur de Sel, Lunenburg
Jonathan Canning, Nova Scotia Community College, Dartmouth
Shane Robilliard, Fox Harb'r Resort, Wallace
Chris Velden, The Flying Apron Inn & Cookery, Summerville
Your $150.00 ticket includes wine pairings, tax & and a ticket to the Nova & Beer Garden. Menus & wine pairings coming soon!
Mark Greenaway
Mark Greenaway of Restaurant Mark Greenaway in Edinburgh was the only chef in Scotland to be newly awarded 3 AA Rosettes for Culinary Excellence in 2012. The restaurant has held its 3 AA Rosettes every year since 2013 and was named No. 13 in the U.K. by Square Meal in their 2016 list of the Top 100 restaurants.
Mark is an ambassador for Scotland Food and Drink and works closely with Seafood Scotland. He has made numerous appearances on television, including STV Edinburgh's The Fountainbridge Show and BBC One's Saturday Kitchen Live. He was a weekly columnist for the Edinburgh Evening News in 2014 and 2015 and now writes a regular column for heraldscotland.com's food and drink section. He launched his first cookbook, Perceptions: Recipes from Restaurant Mark Greenaway, in 2016.
Mark has been an ambassador for the Prince's Trust, helping to train and support young people looking for a start in the hospitality industry. He has worked with Young Scot to bring school-leavers aged 16 to 18 into his kitchen for work experience. @markgreenaway

Photo credit: Stephen Robinson
Peter McKenna
Peter McKenna started his career in rural Ireland in the mid-1990s and went on to train in the kitchens of renowned chefs in the Netherlands, London, Sydney, Dublin and Glasgow. He spent four years travelling the world as the personal chef of a Saudi sheik and two years on the yacht of a Russian oligarch.
Chef Peter opened The Gannet restaurant four years ago with business partner Ivan Stein to critical acclaim. They quickly gathered a reputation as one of Glasgow's leading restaurants. Having a firm focus on seasonal Scottish produce with solid links to local artisan producers, farmers and gamekeepers has helped them pick up many accolades and awards, including AA Scottish Restaurant of the Year 2015-16, 3 AA Rosettes and a Michelin Bib Gourmand. @PeterTheGannet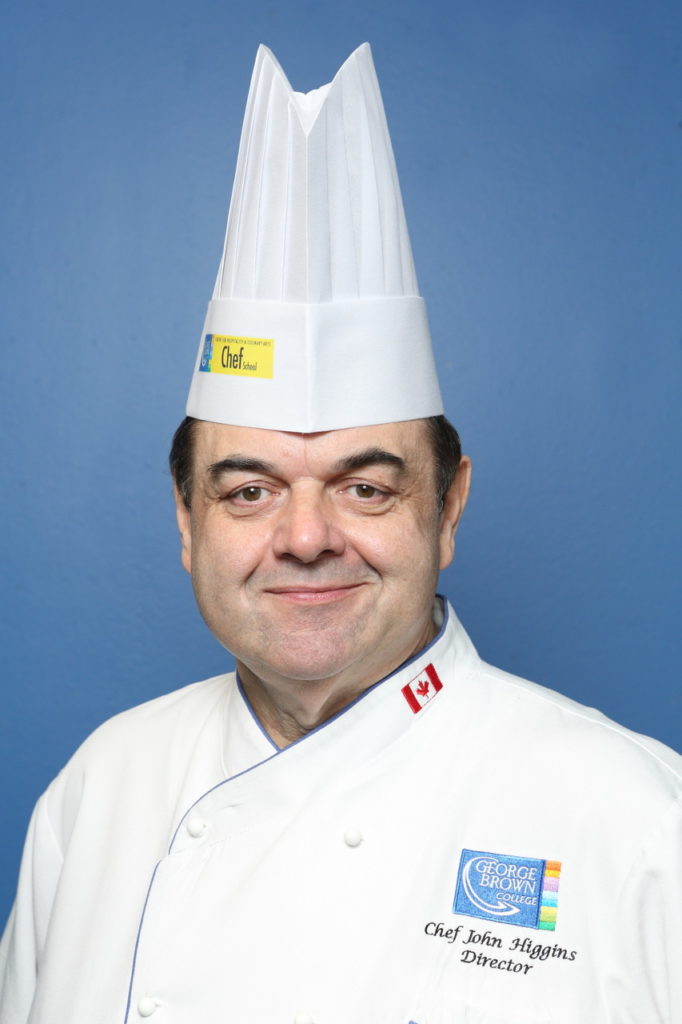 John Higgins
John Higgins is director of North America's best chef school at Toronto's George Brown College. He has cooked for the Queen at Buckingham Palace and on the Royal Yacht Britannia, as well as for heads of state in Washington and celebrities around the world.
At the beginning of his culinary career, he apprenticed at Glasgow's Michelin star restaurant, Malmaison, and Scotland's world famous, five-star luxury hotel, Gleneagles. Upon immigrating to North America, John worked for the Four Seasons Hotel in Canada and the United States. His final stint in the hotel industry was at the King Edward Hotel in Toronto.
Since arriving at GBC in 2002, John has steered the school through a massive expansion due to an explosive demand in enrolment. With his Scottish brogue, keen wit and passion for teaching, John is leading the way for the next generation of talented chefs. He has travelled the world, from India to Italy and Sao Paulo, promoting Canadian cuisine. He is also known for several Food Network appearances, including Top Chef Canada, Chopped Canada and At the Table with. @haggisracer
Martin Ruíz Salvador
Martin Ruiz Salvador was born and raised in Nova Scotia. He began his culinary career as a young dishwasher in Halifax then worked his way across the country as a line cook.  When he decided that cooking would be his life, he took Le Cordon Bleu program at the Scottsdale Culinary Institute in Arizona. In Europe he apprenticed at Dublin's Michelin-starred Commons Restaurant under Chef Aiden Byrne. He did back-to back stints at Michelin 2 star Restaurant Lyon de Lyon with Chef Jean-Paul Lacombe and Caro de Lyon under the tutelage of Chef Frédérick Côte.  
After returning to Canada, Martin and his wife Sylvie opened Fleur de Sel in Lunenburg in 2004. The next year the restaurant earned eighth spot in enRoute's Top Ten New Restaurants in Canada. Martin has since opened The Salt Shaker Deli and The South Shore Fish Shack in Lunenburg, cooked at James Beard House in New York, competed in the National Gold Medal plates competition in 2008, 2014 and 2016, represented Nova Scotia at The Canadian Chefs Congress and has held Four Diamonds with CAA since 2007.
Martin and Sylvie took a year sabbatical from Fleur de Sel to make time for the arrival of their son Oscar. They opened The Half Shell Oyster & Seafood in 2016 and relaunched Fleur de Sel in 2017. @FleurdeSel_NS
Johnathan Canning
Johnathan grew up in Sydney River, N.S., and at the age of 18 went to the Culinary Institute of Canada in Prince Edward Island. He interned at the Keltic Lodge in the Highlands of Cape Breton where his interest for fish and shellfish was confirmed and grew into a love affair with seafood. Upon returning to P.E.I. to complete the culinary program Johnathan started to look for his next job, which landed him in New York. He spent the remaining of 2001 at the Sagamore Resort in Bolton Landing. From there Johnathan moved to Calgary to join the opening team of the acclaimed Catch restaurant, winning best new restaurant in Canada. Johnathan then took a job in Vancouver at the award-winning Lumiere restaurant under the leadership of executive chef Rob Feenie. After a year working in Vancouver Johnathan became executive chef of the Raw Bar at Hotel Arts in Calgary. He opened Hotel Arts group's next project, Olives restaurant, in Calgary. He was a culinary instructor at SAIT in Calgary before joining the team at NSCC Akerley campus.
Shane Robilliard
Born and raised on Vancouver Island, Shane's passion for food and beverage began right out of high school. As a student at Vancouver Island University's culinary arts program he knew right away that this was going to be a lifelong passion. Shane apprenticed under chef Vincent Stufano, who instilled in him the value of fresh and local food.
Shane spent the next 10 years with Fairmont hotels and resorts in Whistler, Vancouver and San Francisco. A desire to know all aspects of food and beverage led him to acquire his sommelier diploma. As the executive chef and food and beverage director at Fox Harb'r Resort in Nova Scotia, Shane has the unique opportunity to oversee all aspects of the food and beverage operation. @FoodMasterNS
Chris Velden
Hailing from Frankfurt, Germany, Chris Velden has been cooking and teaching across Canada, the U.S. and Europe for more than 40 years. As a certified European Master Chef and Culinary Instructor, his expert qualifications match his passion for teaching culinary education to future chefs and the larger public at his Flying Apron Cookery School.
As the chef and co-owner of The Flying Apron Inn & Cookery in rural Summerville, N.S., Chris brings his love for local, honest food to each item on the menu. The Flying Apron is known for its use of seasonal, locally grown ingredients on its weekly changing menus. Having developed personal partnerships with many Nova Scotian farmers and producers, Chris stands strongly for the use of sustainable and ethical farming practices. He is a member of the Nova Scotia Slow Food board, chair of Slow Meat NS and is a long-standing member of Ocean Wise. @FlyingApronCook