Sturgeon Nose-to-Tail Workshop & Sturgeon Technical Handbook Launch
During this workshop we are going to introduce the audience to sturgeon – the royal fish that, over centuries, was cherished, forgotten, overfished, misunderstood and at many times, only known for its caviar. While some people still think that sturgeon is a by-product of the caviar production (wrong!), we have long advocated for the nose-to-tail use and respect of this majestic fish. During this workshop we will talk about all the sturgeon products and benefits, will cook and taste some simple dishes and share some of our sturgeon love with you! A newly launched Sturgeon Technical Manual will also be available to purchase for participants.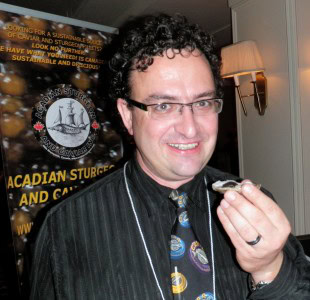 Cornel Ceapa
Cornel Ceapa has dedicated the greater part of his life to studying and working with sturgeon. A scientist with a PhD in sturgeon biology, he is also a conservationist, a researcher, a fisherman, a businessman, a roving salesman and an unadulterated sturgeon geek who can spend hours talking about sturgeon migration, sturgeon anatomy, sturgeon fishing, sturgeon recipes, sturgeon everything.
Founded in 2005, Acadian Sturgeon is truly a family business. Cornel works closely with his wife Dorina and son Michael to manage all aspects of the business – from caring for the fish, to harvesting, salting and mixing the eggs, to smoking and packaging the sturgeon meat, to managing the daily operations. Cornel and his family work hard, loving what they do and taking pride that they are able to build a very difficult, sustainable business using their knowledge and passion for sturgeon, as well as the support of the people around them.