Devour! Golden Tine Awards Ceremony, 2023 Theme Announcement & Reception w/Chef Renée Lavallée
Join us in celebrating the very best of the 2022 festival at our Devour! Golden Tine Awards Reception where we will present our coveted Golden Tine Awards for this year's films in five categories: Best Animation, Best Short Documentary, Best Short Drama, Best Feature Documentary, and Best Feature Drama. Winners are chosen by our esteemed jury this year, Jan Miller & Pamela Segger. This reception will also feature wine and light bites prepared by Chef Renée Lavallée to announce our 2023 theme.
Admittance with Festival ticket or badge.
Sponsored by Consulat général de France à Moncton, Alliance Française and L'Acadie Vineyards
Renée Lavallée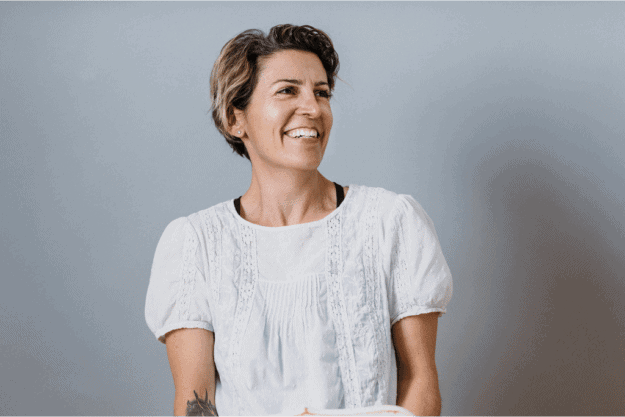 Born and raised in Shawville, Quebec, Renée left home at an early age to attend Toronto's George Brown College. After close to 25 crazy years in restaurants around the world, she now calls Nova Scotia home. After a brief hiatus to raise her family, she jumped back into the restaurant ring in Downtown Dartmouth to open The Canteen (which was featured on Food Network Canada's Big Food Bucket List), followed by Little C. In April 2020, at the start of the pandemic, she and her husband/business partner Doug launched The Canteen Community Kitchen, which supplied over 10,000 meals to those in need—and then went on to launch The Canteen Cooks YouTube channel, which teaches viewers how to produce restaurant-quality food out of their own kitchens. With many accolades to her credit, Renée has been a spokesperson for numerous culinary brands and organizations, and has appeared as a contestant on Top Chef Canada – Season 7, as well as a judge on the series Wall of Chefs. @feistychef
Devour! Golden Tines Award Jury
Jan Miller


Jan Miller is an international consultant and trainer specializing in film and television co-production and co-venturing. She also continues to present one of the world's top Pitching & Content Development Workshops around the world. A talent that makes things happen, Jan was one of the driving forces behind setting up the National Screen Institute (NSI), the Strategic Partners international Co-production Market, Trans Atlantic Partners (TAP), and the design and delivery of CMPA's international Coproduction Accelerator Program.  It's part of Jan's DNA to support talent. She established the Women in Film and Television-Atlantic Chapter,  introduced the WAVE Awards,  the Women Making Waves Conference and several iterations of Women in View's Five in Focus training opportunities, primarily for underrepresented communities, including one for female animators and another for Indigenous creators.   Jan presently serves on the Women in View Executive Board, the WIFT Canada Coalition, completed a term on the AFC Board and sits on the Canadian Senior Artists Resource Network (CSARN) Board.
Pamela Segger


Pamela Segger serves as executive director and lead programmer of Lunenburg Doc Fest, Atlantic Canada's largest documentary festival, conference, and industry market. The festival showcases the documentary art form and creates a cultural connection between audiences and artists in UNESCO Lunenburg, Nova Scotia. Prior to co-founding Lunenburg Doc Fest, Pamela graduated from the UCLA Feature Film Writing program. She served as board member and co-programmer of WIFT-At for several years and is currently a member of Screen Nova Scotia and the Documentary Organization of Canada. In her spare time, Pamela frequents farmers markets and caters artful charcuterie-style boards.