Devour! The World Street Food Rally – IN PERSON
The forever popular Devour! Street Food Rally changes it up this year with a celebration of tasty Indigenous foods from around the world: Mexico, Finland, across Canada, and the United States. Enjoy the creativity of modern Indigenous foods from our visiting Devour! chefs this year. All tastes are $5.00 each, so get ready to try all of them! Featuring 8+ Stations of Global Indigenous Cuisine in Waterfront Park at Harbourside Drive and Front Street right behind the Devour! Studios. Proceeds from this event will go to Glooscap First Nation youth.
Ticket Price: Free public event; $5.00 dishes for purchase. No ticket required. 
Sponsored by the Bank of Montreal
Featured Chefs & Dishes
Joseph Shawana – Sweetgrass Ice Cream, pine needle sorbet, dried Saskatoon berries, maple cotton candy.
Jenni Lessard – Tamarack-Skewered Bison, seasoned with yarrow & sage and served over nettle and sunchoke, drizzled with chokecherry syrup.
Jorge de la Rosa – Mexican Grilled Street Corn- Grilled corn with mayonnaise dressing, polder chile, cotija cheese, lime.
Taelor Barton – Catfish Fry with sumac watercress remoulade, egg, wild onion patties, sassafras, mint tea.
Brian Yazzie – (Nitsidigo'i) Traditional Navajo Kneel Down Bread w/Cedar-smoked squash spread & red chile sauce
Heikki Nikula: Traditional Sautéed Reindeer (venison) with potato mash, lingonberries & Toast of Cured White Fish, whitefish roe, pickled red onion, dill.
Stephane Levac: Wild Boar Taco, smoked blueberry salsa, spruce crema on blue corn tortilla.
Anthony Walsh: Jerky Sustainable Blue Salmon, sumac crumpet, nettle and kelp tartar, seabuck thorne pickle.
Joseph Shawana 


Acclaimed Chef Joseph Shawana is Odawa, part of the Three Fires Confederacy. Born and raised in Wikwemikong Unceded Indian Reserve in Ontario, Joseph was brought up knowing that food is life. Starting in the kitchen at the early age of 13, he learned from his mother, and quickly fell in love with authentic Indigenous cuisine. His classical French training and Aboriginal background combine to create authentic, Native American cuisine executed with world-class culinary technique.  Currently, he is a professor, the chair of Indigenous Culinary of Associated Nations, and the Indigenous culinary advisor at Ontario's Centennial College. Joseph is also the force behind the high-end Indigenous restaurant, Kūkŭm Kitchen, which won the "Best World Cuisine" award in 2019. He was named on the list of Top Ten Chefs of Ontario, has received rave reviews in numerous publications—including The New York Times and Food & Wine—and is a sought-after voice on the emergence of Indigenous culinary around the globe. @joseph.shawana
Jenni Lessard 


Jenni Lessard is a Métis chef, recipe developer, and Indigenous Culinary Consultant for Wanuskewin Heritage Park. She grew up in the boreal forest of Northern Saskatchewan, with no TV reception. She filled her time picking berries, rosehips, and lake mint, then used them in her cooking. Jenni's first restaurant, at age 14, was Flight Delight, a burger truck at the La Ronge Municipal Airport. In 2005, with no formal culinary training, Jenni opened New Ground Cafe in the farming community of Birch Hills, SK. Live music events, art, and Jenni's unique blend of storytelling and cooking garnered a province-wide client base, when she moved to Saskatoon to focus on catering. Jenni is Secretary of the Indigenous Culinary of Associated Nations, Vice President of Métis Local #126, and sits on the steering committee of Slow Food Saskatoon. She makes her home in the Qu'Appelle Valley on Treaty Four Territory. @chefjenni
Jorge de la Rosa


Growing up in Guadalajara, Mexico, Chef Jorge de la Rosa's grandmothers provided the blueprint for his craft as a young chef. Looking to hone his skills, he moved to Canada and worked with mentor Luis Valenzuela at Torito Tapas Bar. Initially a dishwasher, he quickly found assured footing as a junior sous chef at several innovative Toronto restaurants, then as executive chef at Playa Cabana in 2013. He later moved on to Vancouver where he worked as a private chef, then returned to Mexico, where he opened his first restaurant and immersed himself into Indigenous Mexican food. Aiming to engage all senses, Chef de la Rosa thrives on traditional Mexican fare for a contemporary palate. Integral to his approach is the simultaneous layering and contrasting of colours, flavors, and textures. @mrdelarosa13
Taelor Barton 


Taelor Barton is a chef from Tulsa, Oklahoma otherwise known as Indian Territory. She has always loved food, connection, and the people. She attended culinary school, competitively cooked as a way to gain scholarships, worked in the Tulsa restaurant industry for over 10 years, and uses her skills to cook for the people. Being a citizen of Cherokee Nation, she has interwoven her training as a vocational chef and her indigenous heritage to connect and speak to others. @madskillsbarton
Brian Yazzie


Brian Yazzie aka Yazzie The Chef (Diné/Navajo) is a chef and food justice activist from Dennehotso, Arizona, and based out of Saint Paul, MN. He is the founder of Intertribal Foodways catering company, a YouTube creator under Yazzie The Chef TV, a delegate of Slow Food Turtle Island Association, and a member at I-Collective: a collective of cooks, chefs, seed keepers, farmers, foragers, and scholars focused on bringing awareness to the cultural appropriations of Indigenous foods of the Americas. His TV and media appearances include Independent Lens, Alter-NATIVE, and Taste the Nation with Padma Lakshmi. Yazzie was recently appointed Executive Chef at Gatherings Café, and is currently working with other chefs and volunteers to deliver support to Native Elder communities within the Twin Cities. Yazzie is also part of the Dennehotso Families Covid-19 Relief Project, which is focused on providing long-term supplies for families and elders in his hometown. @yazzie_thechef
Heikki Nikula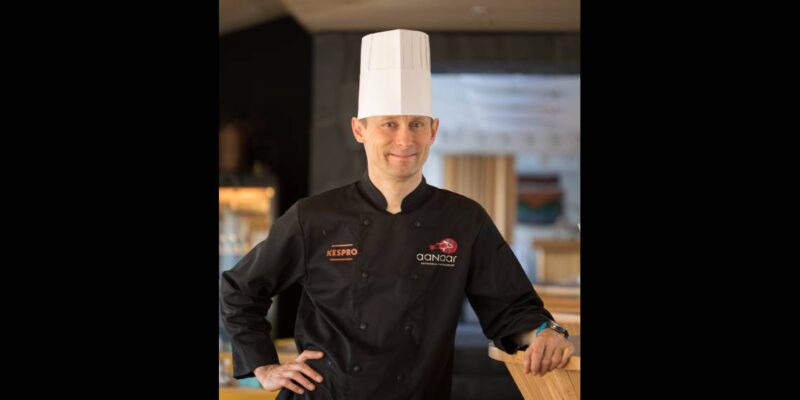 Heikki is the Chef de Cuisine and second generation owner of restaurant Aanaar in the village of Inari in the northernmost part of Finnish Lapland. He is indigenous Sami from his father's side and from that upbringing, he gained an enormous interest in nature and using wild ingredients in his cooking. He won second prize in a Sapmi cooking competition in 2014. His restaurant Aanaar also won the Finnish Tourism Association's Top Food Tourism award in 2015. The Finnish Gastronomy Association choose Aanaar Restaurant as Restaurant of the Year 2020 for all of Finland. He specialises in making modern food from the Inari region influenced by his Sami heritage: fish from local waters, reindeer and wild plants, mushrooms, and berries. @hessunikula
Stéphane Levac


Nova Scotia forager and Indigenous chef Stéphane Levac made a name for himself having operated his own catering business, Frais Catering, in the Annapolis Valley with his partner Sarah Morrison. Since then, he has worked in the kitchen at Studio East in Halifax under Chef Ray Bear, and has also been the kitchen supervisor at Just Us! Coffee Roasters. Most recently, he has appeared on Season 9 of Top Chef Canada and was also the Chef at the very popular drink and eatery, Maritime Express Cider Company. Today, he is the Chef at Oak Island Resort. @fraiscaterer
Anthony Walsh


One of Canada's most respected chefs, Anthony Walsh is the Corporate Executive Chef of Oliver & Bonacini Hospitality, ensuring every menu reflects the flavours of O&B's many unique venues—including Halifax's new Muir Hotel, where Chef Walsh was recently appointed the creative culinary lead. Previously, Chef Walsh served as Executive Chef for the iconic and much celebrated Canadian restaurant, Canoe, and opened JAW, a boutique restaurant in Toronto's Queen West neighbourhood, which received unanimous critical acclaim for its inspired fresh market cuisine and frequently changing menu. Over the course of his career, Chef Walsh has won critical acclaim by national and international media and has received numerous awards. He has been a featured guest chef at James Beard House, and has cooked for a number of notable dignitaries. In 2016, he was named Chef of the Year by Foodservice & Hospitality Magazine, as well as one of Toronto Life's Most Influential People. @chefanthonywalsh
In keeping with Nova Scotia provincial health regulations and a desire to keep all our guests safe and healthy, Devour! will require proof of full Covid-19 vaccine immunization along with a valid photo ID upon entry to all events with no exceptions. For all Devour! Covid Protocols, please visit our website.