Shorts Program: Look Who's Coming to Dinner w/Food First, Lobster Fra Diavolo, Sunday Lunch, So Good To See You, Candice & Peter's Smokin' Hot Date, Home Suite Home & The Cannoli
Food, First
Two couples for a lovely evening out. Two couples endure the most awkward of conversations.
Germany, 2016, 11 minutes
Director Pol Ponsarnau
Lobster Fra Diavolo
A comedy of errors, family, and a roving lobster.
USA, 2015, 15 minutes
Director Oriana Oppice
Sunday Lunch (Le repas dominical)
In this animated short, a young gay man talks about how his dysfunctional family functions during dinner.
France, 2015, 13 minutes
Director Céline Devaux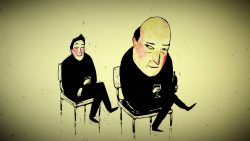 So Good to See You
Sienna Miller stars in this painfully funny short which teaches you how NOT to use your phone before, after, and during a dinner party.
USA, 2016, 10 minutes
Director Duke Merriman
Candice & Peter's Smokin' Hot Date
Since last year's Reservations for Two, Candice and Peter have amped up their relationship and it's smokin' hot, to say the least.
Canada/USA, 2016, 8 minutes
Directors Leanne Melissa Bishop, Michael Mason
Home Suite Home
The life of a  critic isn't always what it's cracked up to be. Unless you too, crack, just a little.
The Netherlands, 2016, 14 minutes
Director Jeroen Houben