Devour! Chefs & Shorts Gala at the Valley Drive-In – IN PERSON
Food and film together! Join us at the Valley Drive-In for a reimagined version of our annual Chefs and Shorts Gala. Seven short Indigenous films will be paired with seven gourmet "snacks" prepared by the faculty and culinary students at the Nova Scotia Community College's Kingstec Campus. Explore each taste sensation inspired by a movie in the comfort of your vehicle. See the creativity of these upcoming chefs as they use the films to inspire the best movie snacks ever from this year's overarching theme: Global Indigenous Cinema & Cuisine.
Please see menu below.
Names for Snow


This short follows Rebecca Thomassie, an Inuk woman, around Kangirsuk as she learns the 52 Inuktitut words for snow.
Canada, 2020, 6 minutes, Nation: Inuit
Director Rebecca Thomassie
Chishkale: The Blessing of the Acorn


Bernadette Smith weaves the story of her Tan Oak conservation efforts in Northern California into a contemporary Indigenous dance piece created to honour the sacred, traditional food of California Natives.
USA, 2020, 5 minutes, Nation: Pomo
Director Linda Mai Green
Connection


A lifelong angler, Autumn Harry had never fished beyond the waters of her reservation, until she picked up a fly rod. On a trip to Washington to cast for steelhead, she unpacks what it means to overcome her own image of fly fishers, and uses the sport to fight for conservation.
USA, 2020, 9 minutes, Nations: Paiute, Navajo
Directors Tracy Nguyen-Chung, Ciara Lacy
Wajak: At the End of the Lake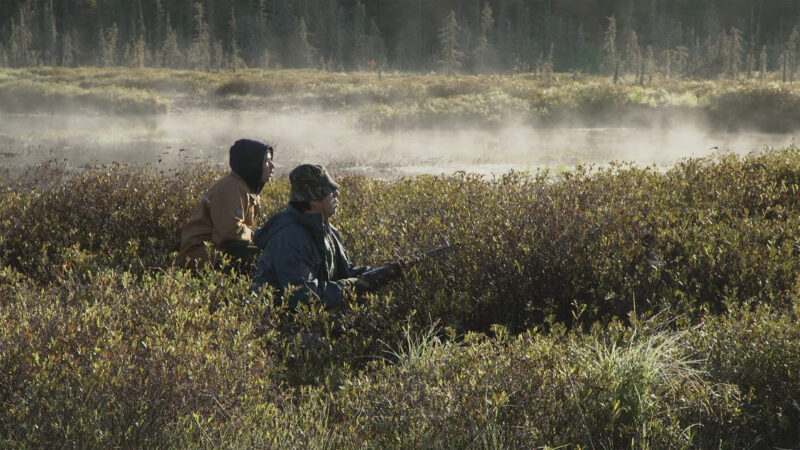 On a Sunday morning, as the sun is rising, Peter Poucachiche wakes his grandson up to go moose hunting. A rather silent journey on Kitiganik's territory.
Canada, 2019, 4 minutes, Nation: Anishinabe
Directors Peter Poucachiche, Kobe Wawatie
Pituamkek: A Mi'kmaq Heritage Landscape


Located in northwestern Prince Edward Island (Epekwitk), in close proximity to the Lennox Island First Nation, there is a chain of islands known in the Mi'kmaq language as Pituamkek (Bee-doo-um-gek), which means 'At the Long Sand Dune', and in English as Hog Island and the Sandhills. Pituamkek has helped sustain the Mi'kmaq people on Epekwik for thousands of years. This film celebrates the lands of Pituamkek: its nature and its Mi'kmaw traditions, and profiles work underway to create an Indigenous Protected Area and National Park Reserve there.
Canada, 2021, 19 minutes, Nation: Mi'kma'ki
Director John Hopkins
Sara Mama: Sacred Seed


In the Peruvian Andes, a Quechua boy shows his special relation to Sara Mama and reveals the knowledge within its productive cycles.
Peru, 2020, 11 minutes, Nation: Quechua
Directors CHIRAPAQ and Quechua indigenous youth
Ealát


"As long as the reindeer exist here, so do we." Through Elle Márjá Eira's eyes, we follow her family in different seasons with their reindeer herd. A story about living and surviving in Sámireindeer husbandry in strange times.
Norway, 2021, 32 minutes, Nation: Sámi
Director Elle Márjá Eira
Available for Nova Scotia viewers in person only.
In keeping with Nova Scotia provincial health regulations and a desire to keep all our guests safe and healthy, Devour! will require proof of full Covid-19 vaccine immunization along with a valid photo ID upon entry to all events with no exceptions. For all Devour! Covid Protocols, please visit our website.
Devour! Chefs & Shorts Gala
Presented by the NSCC Kingstec Culinary Management Team
Spring Snow
Meringue and Pea Tips
Names for Snow directed by Rebecca Thomassie
Oak
Tuile Cookie
Chishkale: The Blessing of the Acorn directed by Linda Mai Green
Cured Nova Scotia Trout
Sumac Emulsion, Local Wild Mushrooms
Connection directed by Tracy Nguyen-Chung & Ciara Lacy
Chocolate Moose
Wajak: At the End of the Lake directed by Peter Poucachiche, Kobe Wawatie
PEI
Potato Salad
Pituamkek: A Mi'kmaq Heritage Landscape directed by John Hopkins
Taste of Peru
Created by NSCC Scholarship student Mario Justo Polar
Sara Mama: Sacred Seed directed by CHIRAPAQ and Quechua indigenous youth
Reindeer Lichen
With Love Spice
Ealat directed by Elle Márjá Eira