Devour! Golden Tine Awards Brunch
Join us in celebrating the very best of the 2019 festival at our Devour! Golden Tine Awards Brunch hosted by CBC's Ali Hassan. We will present our coveted Golden Tine Awards for this year's films in five categories: Best Short Documentary, Best Short Drama, Best Feature Documentary, Best Feature Drama, and Best Animation. Winners are chosen by our esteemed jury: award-winning documentary filmmaker and film festival programmer Peter Stein, award-winning journalist Rita DeMontis, and British Film Institute's Justin Johnson. Brunch features decadent breakfast bites from some of the province's top chefs—whose renowned restaurants may be off-the-beaten-paths of Nova Scotia, but are definitely worth the road trip. Participating Chefs/Restaurants include: Andrew Aitken & Sarah Griebel (Wild Caraway Restaurant & Café), Jason Lynch (Le Caveau Restaurant at Grand Pré Winery), Andreas Preuss (Trout Point Lodge), David Smart & Susan Meldrum (Bessie North House) and Martin Ruiz Salvador (Beach Pea Kitchen + Bar).
Your $25.00 ticket includes brunch and beverages
Sponsored by Egg Farmers of Nova Scotia and Compass Distillers; Awards made by artist Brad Hall
This year's featured Chefs & Restaurants:
Andrew Aitken & Sarah Griebel, Wild Caraway Restaurant & Café


Andrew Aitken and Sarah Griebel opened Wild Caraway in Advocate Harbour in 2009. They were enticed by the quality of the seafood and other ingredients available here in Nova Scotia, and truly respect the relationships they have with local producers and the land that provides the bounty. They were both raised in rural areas, but have travelled and worked in cities such as Melbourne and London. These experiences have helped create their vision of a quality experience in a rural area—close to the source of the ingredients that continue to instill excitement. @wildcaraway
Jason Lynch, Le Caveau Restaurant at Grand Pré Winery


Jason Lynch is an award-winning chef, restaurant owner, and author of Straight From the Line—recipes and reflections from a chef at work. Born and raised in Nova Scotia's Annapolis Valley, he studied at Le Cordon Bleu Culinary Arts Institute in Ottawa. Upon returning to Nova Scotia, he was part of the team at Acton's Restaurant in Wolfville, before joining Domaine de Grand Pré Winery's Le Caveau Restaurant in 2003. In 2008, Jason took over as Head Chef of Le Caveau, which went on to be named one of the 20 world's best winery restaurants by Wine Access magazine. At the forefront of the local food movement in the region, Jason sources roughly 80% of the restaurant's ingredients locally. He is also Chef at the Black Spruce Restaurant in Gros Morne National Park. @chefjasonlynch
Andreas Preuss, Trout Point Lodge

Andi Preuss leads the Trout Point Lodge culinary team in his role as Executive Chef, a position he has held since 2017. Andi completed his formal training in Germany and before joining the Trout Point Lodge team, worked as Sous-Chef at Austria's world-renowned Schloss Fuschl Hotel. In his early career Andi held roles at the Steigenberger Strandhotel in Zingst, Germany, and also worked as a Chef de Partie at Saxony House at the XXI Olympic Winter Games in Vancouver.
Andi's culinary philosophy engages all senses and combines classical techniques with a focus on fresh, hyper-local ingredients. Every dish tells a story of place and time. When not in the kitchen, Andi can be found in Trout Point Lodge's on-site gardens, or exploring the far-flung corners of South-West Nova Scotia where he has developed an extensive array of local partners, all of whom feature prominently in his refined cuisine. @chef_andreas_preuss
David Smart & Susan Meldrum, Bessie North House


Chef David Smart and Susan Meldrum own and operate Bessie North House—a 12-seat, farm-to-table dining experience in their 135-year-old farmhouse, located at the base of the North Mountain in the beautiful Annapolis Valley. They offer a seven-course set menu that changes with the seasons, sharing the best of what the region has to offer. Susan is the General Manager and runs the front of house at Bessie North House. She brings a combined 25 years of hospitality experience to the business. David is the Chef at Bessie North House. Following his passion for cooking, he left his previous career as an engineer to enroll in the Cordon Bleu cooking school in Ottawa in 2010. David's style of cooking is rooted in classic French cuisine. @bessienorthhouse
Martin Ruiz Salvador, Beach Pea Kitchen + Bar


Martin was born and raised in Nova Scotia. He began his culinary career as a dishwasher in Halifax then worked his way across the country as a line cook. He took Le Cordon Bleu program at the Scottsdale Culinary Institute in Arizona. In Europe he apprenticed at Dublin's Michelin-starred Commons Restaurant under Chef Aiden Byrne. He did stints at Michelin 2 star Restaurant Lyon de Lyon with Chef Jean-Paul Lacombe and Caro de Lyon under Chef Frédérick Côte.  
Martin and his wife Sylvie opened Fleur de Sel in Lunenburg, N.S., in 2004. The next year the restaurant earned eighth spot in enRoute's Top Ten New Restaurants in Canada. Martin opened The Salt Shaker Deli and The South Shore Fish Shack in Lunenburg, cooked at James Beard House in New York, competed in the national Gold Medal Plates competition in 2008, 2014 and 2016, represented Nova Scotia at the Canadian Chefs Congress and has held Four Diamonds with CAA since 2007. 
Martin and Sylvie took a year sabbatical from Fleur de Sel to make time for the arrival of their son Oscar. They opened The Half Shell Oyster & Seafood in 2016, relaunched Fleur de Sel in 2017 and opened The Beach Pea in 2018. @martinruizsalvador 
Awards Brunch Host, Ali Hassan


Ali Hassan returns to Devour! for the third time! Ali is a stand-up comic, actor, and radio host. CBC fans will recognize Ali as the host of Laugh Out Loud, a frequent guest-host of q, the leading arts and culture program in Canada, and the host of Canada Reads. He has performed for audiences across Canada and internationally and is part of the Just for Laugh Live Tour across Canada, hosted by Rick Mercer. Ali was recently in the CBS action series Blood & Treasure. His other credits include Designated Survivor on ABC and FXX's Man Seeking Woman, PBS Kids' Odd Squad and CTV's Cardinal. 
This year's Jury:
Peter Stein


Peter L. Stein is a Peabody, Emmy, and James Beard Award-winning documentary maker and film festival programmer based in San Francisco. During 11 years at PBS station KQED, he created a wide range of documentaries and series for national public television, including the six-hour series Neighborhoods: The Hidden Cities of San Francisco, which garnered a Peabody Award (for "The Castro," which Peter wrote, produced, and directed). He also produced seven seasons of culinary programs with Jacques Pépin, garnering multiple James Beard Awards. In 2017, he produced and directed the biographical profile Jacques Pépin: The Art of Craft for PBS's American Masters series. He maintains an active career as a film programmer, having served eight years as Executive Director of the San Francisco Jewish Film Festival, and since 2014 as Senior Programmer for Frameline—San Francisco's renowned LGBTQ+ film festival. More at www.peterLstein.com. 
Rita DeMontis

Rita DeMontis is an award-winning journalist who has been with the
Toronto SUN
for more than three decades, where she is the National Lifestyle and Food Editor for the SUN MEDIA chain, a division of Postmedia Network. She recently had a national radio show on Sirius XM Canada Talks called
Dishing with DeMontis
, and has appeared regularly on CITY-TV's
Breakfast Television
, as well as interviewed on Global TV, CTV Canada AM, CH-TV, CityLine, and Food Network Canada. Rita was a regular on Newstalk 1010 for more than 15 years and once hosted the national cooking show
CUCINAetc
. She has an extensive volunteer background, belongs to several professional organizations, and has sat on various boards, as well as guest lectured to marketing students. Rita has been honoured in a national Canadian book celebrating 32 of the most influential Canadian women of Italian origin, as well as the recipient of the Gold media and publishing award from the Ontario Hostelry Institute. Before working for the
Toronto SUN
, Rita worked for over two years with
TV Guide Magazine
as the youngest regional editor.
Justin Johnson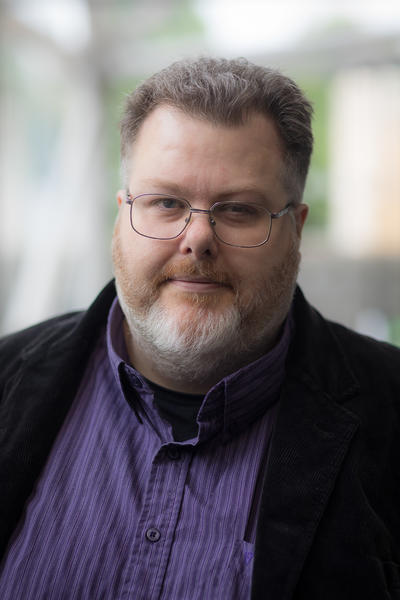 Justin Johnson works for the British Film Institute as Lead Programmer for BFI Southbank and Programme Advisor for the BFI London Film Festival. He is a regular contributor to radio and TV on matters concerning film. He has served on juries at many film festivals including Berlin, Copenhagen, and Zlin, along with the British Animation Awards and the Royal Television Society. Justin has been an elected member of the BAFTA Film Committee and often chairs professional juries for different BAFTA award categories. Justin was film consultant for the BBC TV show Cinemaniacs. During his time at the BFI, he has curated seasons of the work of Cary Grant, John Waters, Studio Ghibli, Monty Python at 50, and many others. In addition, Justin has worked in partnership with Walt Disney Studios, the BBC, Shanghai Animations Studios, Pixar and AMPAS, as well as hosting many on-stage events and interviews.