The Devour! Road Show: Celebrity Chef Film Dinner
Each dish in this five-course dinner is inspired by a corresponding short film screened right in the Barrel Cellar with the diners:
Mark Bauer, International Culinary Center, New York
Darren Clay, Pacific Institute of Culinary Arts, Vancouver
Geoffrey Hopgood, Lightfoot & Wolfville Winery
Jean Joho, Everest, Chicago
Paul Virant, Vie Restaurant, Chicago
Film Program:
Lightfoot & Wolfville directed by the Perennial Plate
How Mr & Mrs Gock saved the Kumara directed by Felicity Morgan-Rhind
Pulled Strings directed by Vicki Chau
From the Wild: Devour! Edition directed by Kevin Kossowan
What If Michael Bay Made Waffles directed by David Ma
$200 per guest. Your ticket includes wine pairings, taxes and a ticket to the Devour! Cocktail Pop-up Party. Menus & wine pairings coming soon!
Chefs:
Mark Bauer


Marc Bauer is senior director of culinary and pastry arts at the International Culinary Center. Born in Alsace, France, Marc grew up tending his family's organic farm and selling the produce at local farmers' markets. He attended culinary school at Lycée Hôtelier Alexandre Dumas in Strasbourg, France, at age 14 and trained in restaurants throughout France and Switzerland. He earned two culinary degrees and a bachelor of science. He has been a member of the prestigious Maître Cuisinier de France (Master Chef of France) North American chapter since 2004. He is co-author of Dropping Acid: The Reflux Diet Cookbook & Cure and his recipes were included in the coffee table book, Master Chefs of France: The Cookbook. @ICCedu
Darren Clay


After graduating from culinary school in 1998, Darren began his professional culinary career at the Fairmont Waterfront hotel. He earned his Red Seal designation and a first place finish in the Vancouver Magazine Rising Star black box challenge. He worked in Singapore for the Raffles hotel group and ran an authentic Mexican restaurant. He later became the executive chef at the Robson Street Cactus Club in Vancouver and opening chef for Cactus Club's Village Taphouse in Park Royal in West Vancouver. After completing his provincial instructor's diploma in 2009, he joined the faculty at Pacific Institute of Culinary Arts. He is currently the executive culinary chef instructor and oversees all day-to-day operations of the culinary arts program. He sits on various advisory committees and is vice-president of the Chefs' Table Society of B.C. @specialklay
Geoffrey Hopgood


Halifax native Geoff Hopgood spent most of his culinary career working in Vancouver and Toronto at some of Canada's best restaurants. After learning and honing his craft under his mentors, he opened the acclaimed Hopgood's Foodliner in Toronto in 2011. The Nova Scotia-inspired restaurant is named after a family grocery chain in Halifax. After six successful years, Geoff and his young family moved to Nova Scotia to plant some roots and contribute to the blossoming food and wine culture of the region. He now helms the culinary program at Lightfoot & Wolfville, which offers amazing potential for food and wine in the Maritimes. @foodliner
Jean Joho


Jean entered the profession as a six-year-old, peeling vegetables in his aunt's restaurant kitchen in Alsace, France. His formal training began as a 13-year-old apprentice for Paul Haeberlin of the acclaimed L'Auberge de L'Ill, and continued in kitchens in France, Italy and Switzerland. His rise to international success began on the 40th floor of the Chicago Stock Exchange with Everest, now one of the world's premier dining rooms. Today, his establishments across the country in Chicago (Everest, Studio Paris), Boston (Brasserie JO) and Las Vegas (Eiffel Tower Restaurant) set standards for dining and win accolades at every turn. Everest is a member of Les Grande Table Du Monde Traditions & Qualité, Maitre Cuisiniers de France and the only Chicago member of the prestigious Relais & Chateaux/Relais Gourmand. @everest_chicago
Paul Virant


Since opening Vie, his flagship restaurant in Western Springs, Ill., in 2004, Paul has earned acclaim for his contemporary Midwestern cuisine that emphasizes canned and preserved ingredients. His philosophy of local, seasonal eating stems from techniques he learned on his family's farm in Missouri. He released The Preservation Kitchen: The Craft of Making and Cooking with Pickles, Preserves, and Aigre-Doux, the first canning manual and cookbook authored by a critically acclaimed chef that creatively combines the technical aspects of canning with a chef's expertise on flavour. Virant's accolades include multiple year finalist nominations for the James Beard Foundation Award's Best Chef: Great Lakes; Best New Chef by Food & Wine; and Best New Chef by Chicago magazine. He also has competed on Food Network's Iron Chef America. Vie earned a Michelin star in 2011. @paul_virant
Film Program:
Lightfoot & Wolfville 


A family reclaims its once lost land and makes biodynamic wine with the pull of the world's largest tide cycle.
Canada, 2018, 5 minutes
Directors The Perennial Plate
How Mr & Mrs Gock saved the Kumara 


When New Zealand gave two Chinese refugees citizenship in the 1940s they found an unlikely way to return the gift.
New Zealand, 2016, 4 minutes
Director Felicity Morgan-Rhind
Pulled Strings 


A father teaches his daughter the ancient art of hand-pulled noodles, and in a musical montage, strands of the noodles blend with the strings of the instruments.
Canada, 2018, 6 minutes
Director Vicki Chau
From the Wild: Devour! Edition 


Several filmmakers and chefs head into the wilds of Nova Scotia to hunt, forage, fish and film a meal together.
Canada, 2018, 3 minutes
Director Kevin Kossowan
What If Michael Bay Made Waffles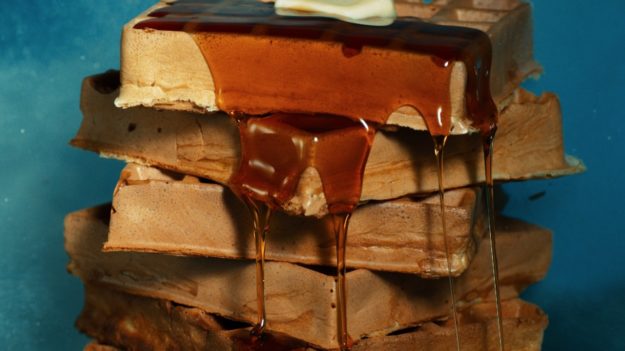 Recipe videos in the style of famous directors. Waffles meet the end of the world, Armageddon-style.
USA, 2017, 1 minute
Director David Ma